A good SEO strategy can help you get more leads and sales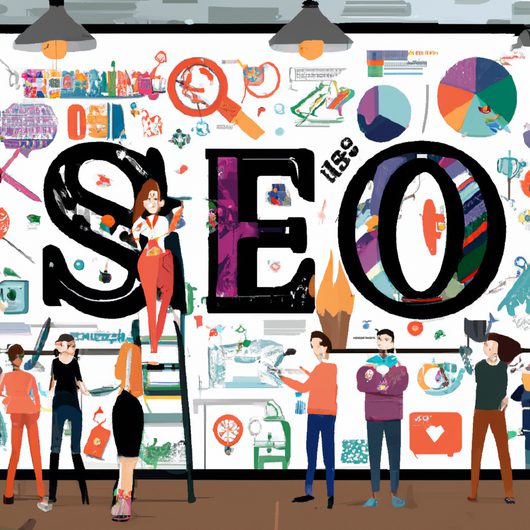 Search Engine Optimization
Excellent SEO is something that everyone wants, many "know all about", and very few who truly understand how all the pieces and parts fit together to satisfy the Great Google Algorithm.
The focus is on the GGA and if you want potential customers to find you on Google Search, you need to play by their rules.
SEO is important for your business
SEO is one of the most important things you can do for your business. The right SEO strategy can help you stand out from the crowd online and get more leads and sales by increasing your website's visibility in search results—but it takes time to develop, manage, and implement a good SEO strategy. Whether you're new to SEO or looking for best practices for your business, this guide will teach you everything you need to know about what SEO is, why it matters for your business, how it works (and doesn't work), and how to get started on an effective seo plan that will improve both traffic volume and conversion rates over time.
SEO improves your web presence
Search Engine Optimization helps you get found on search engines and build a strong web presence. It helps you build trust with your customers, establish brand awareness, and increase traffic to your website.
We can help improve the following aspects of your business:
Website traffic
Lead generation
Social media engagement
SEO helps you stay ahead of your competition
If you want to stay ahead of the competition, then it's important that you make sure your business is getting the best possible rankings on search engines. The first result in Google should be yours! There are several ways to do this, but most importantly, avoid making the following common mistakes:
Not optimizing for mobile devices - Many users now use their mobile devices for web searches and app searches. Make sure you're optimizing for these devices as well as desktop computers.
Not having a clear call-to-action (CTA) - A CTA is what tells visitors what they can do on your site after they arrive there. It might be something like "click here" or "call now." This should always be clear so that visitors know exactly what they need to do next when visiting one of your pages or landing pages.
SEO is good for your customers
SEO is important for your business. It's good for your customers, too. If you effectively execute the basics of SEO:
New Customers will find you and if they find you there is a chance they will buy from you.
Existing Customers

searching for something else may be surprised to learn about your other products / services.
SEO is always changing
SEO is always changing, and you need to keep up with it. The ways in which people search for and interact with websites are constantly evolving, meaning that SEO strategies have to adapt as well. If you don't stay current on the latest SEO trends and make sure your website is optimized for them, then you might find yourself falling behind your competitors—and missing out on valuable traffic from potential customers.
A good SEO strategy can help you get more leads and sales
The good news is that SEO can help you reach these goals. The most obvious benefit of SEO is the increase in organic traffic. Not only do people start clicking on your website more when they search for keywords related to your business, but they also stay engaged with your site longer because it's relevant to them. This increases the chance that they'll make a purchase or contact you for more information about a product or service.
Another benefit of SEO is an increase in conversions—that is, people buying what you're selling. As more people visit your site and convert into customers, revenue from sales increases as well. At the same time, brand awareness grows as well: more people become aware of who you are and what products or services you offer through search engine results pages (SERPs).
SEO also yields several other benefits that help improve both customer satisfaction and loyalty:
You'll have greater control over how customers perceive your brand by showing off its strengths instead of letting competitors do so first;
Customers will be able to find accurate information about what makes your company stand out from others;
An effective and active SEO strategy will help your business and significantly improve how people find you on the internet
SEO is a long term strategy. It's not something that will make your business explode overnight, but if done right, it can make all the difference in the world. SEO isn't a quick fix or magic bullet. It takes time to see results and requires effort on behalf of the business owner as well as our SEO specialists.
Our Free Website SEO and Local Search Audit
There is no obligation for running the audit.
The Audit is full of useful information for you, whether you are a "Do It Yourself", have marketing firm you work with, or are looking for a marketing agency.
We will send you one followup email after the audit, where we will offer to do a web meeting where we can explain the details to you and offer our services. You will not be subjected to emails forever or a pushy sales person. We promise.