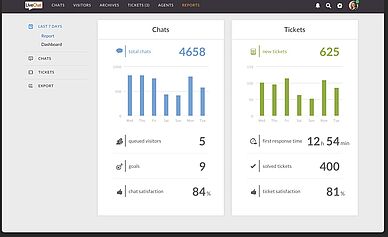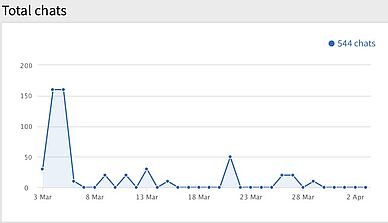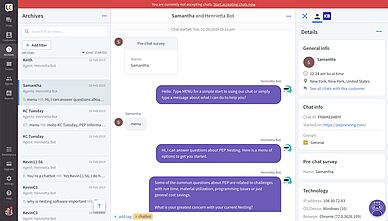 Engaging with your customers and visitors
LiveChat provides an excellent platform for having your team communicate with your website visitors. Fully featured with Pre and Post chat surveys, canned responses, metrics, ticket creation for events you define, and a host of other solid features make this an outstanding tool for your conversational commerce.
The automatic routing can spread chat requests across your team, and the grouping feature can leave you heavy hitters on standby so that agents can pass them the more complicated chats.
Team management, visitor tracking and a collection of integrations round out the full feature set or benefits that come with LiveChat.
Our excitement about the capability of LiveChat went up exponentially when we found the integration with ChatBot. It's almost unfair to call it an integration because the two products really blend together into one with seamless functionality.
Let your bot start the chat and pass it off to a live operator. Very smooth.
A visitor starts a chat after hours and ChatBot can create a 'ticket' to be sure the visitor's request is addressed the next business day.
Visitors are demanding better service and studies show that they will abandon websites that don't strive to provide an excellent experience. Websites that offer chat are beginning to outperform those that do not.
Add LiveChat to your web site and give your visitors the attention that they would enjoy.
Chat with us now and see how easy it works.